Faith Houston, a senior in the School of Pharmacy at the University of Mississippi, hopes to one day be "an informed and compassionate pharmacist who can serve patients well," she said. So, when it came time to write her Honors thesis, the Mississippi native wanted to learn more about the role pharmacists are playing in the state's new medical marijuana program.
The answer? No role at all.
Houston discovered that Mississippi's medical cannabis law, enacted in 2022, makes no mention of pharmacists and the role they will play in the dispensing of medical cannabis.
"When I saw that there was no pharmacist involvement indicated in the new legislation, I was very surprised. Pharmacists are the medication experts of the healthcare team and are normally the distributors of their patient's medications. It is odd that in the case of medical cannabis, there is not a medical professional in place to distribute and counsel patients on the use of a new drug," Houston said. 
The Mississippi law references only physicians, physician assistants, nurse practitioners and optometrists as having a role in guiding patents on their use of the drug. In her thesis, Houston contrasts that with Minnesota, Arkansas and Connecticut, which have pharmacists either dispensing the drug or on call as consultants for dispensaries.
Houston decided to survey Mississippi's pharmacists to better understand what they think about the new state law and the issues surrounding medical cannabis. Nineteen pharmacists responded, revealing mixed views on whether medical marijuana should be legal at all – only nine said yes, seven said no and three were unsure. Another finding that stood out to Houston is that just five of the pharmacists indicated that they felt well-educated about medical marijuana.
"The University of Mississippi Pharmacy School could be very involved in educating both current and future pharmacists about medical cannabis. Since the school does research on marijuana at the National Center for Natural Products they could contribute their findings and help develop continuing education classes for practicing pharmacists," said Houston.
 She says that pharmacy programs need to address this knowledge gap in the curriculum.
"New medications are added to these classes almost every year so it would be quite natural for the school to incorporate new information regarding the medical uses of cannabis as well," Houston said.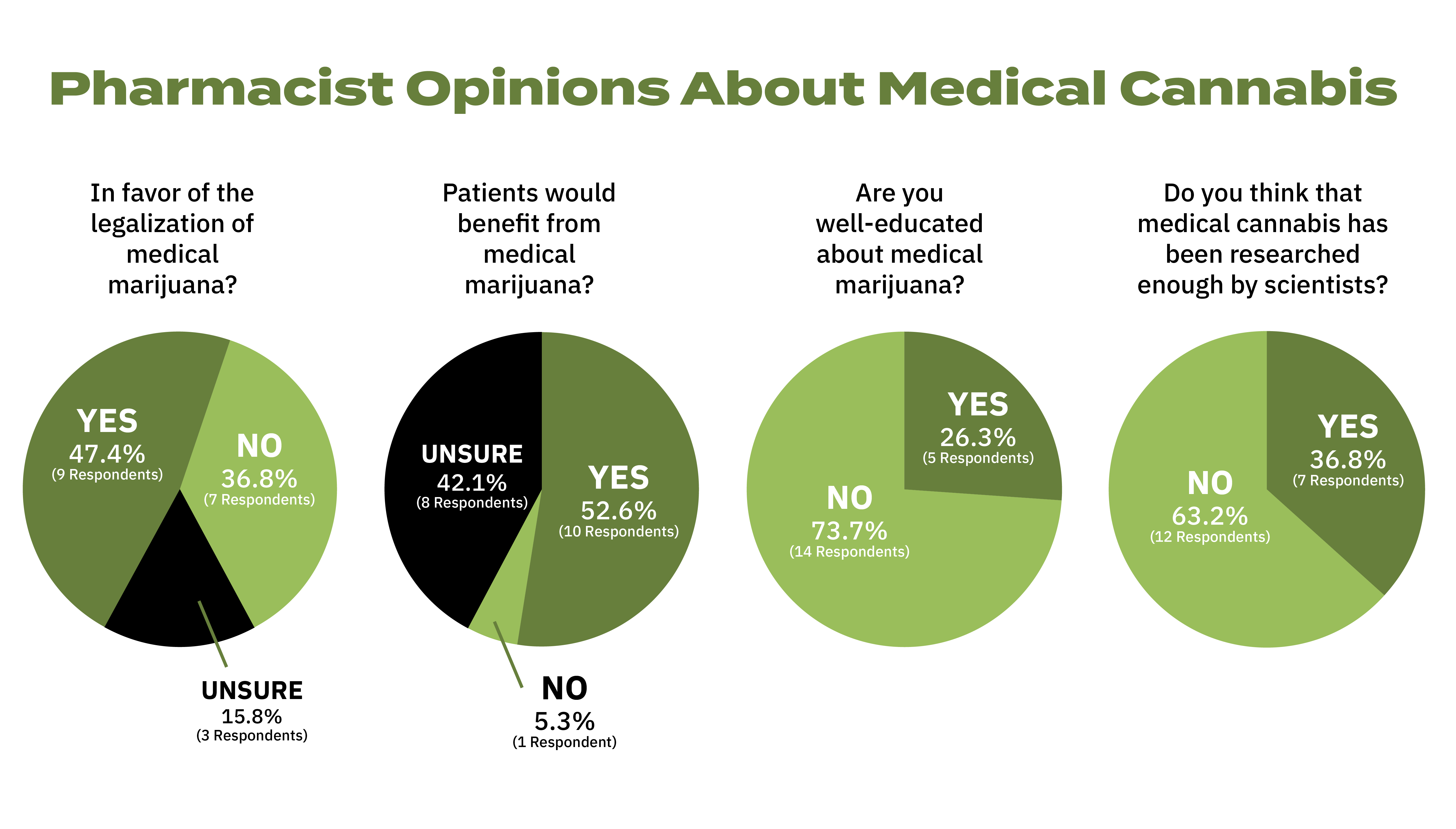 As part of the survey, Houston asked respondents to provide comments regarding any concerns they may have about the Mississippi Medical Cannabis Program. Here is a sample of what they had to say:
"I'm concerned about safety, especially regarding drug interactions."

"I've had no formal education on it."

"MSDH (Mississippi Department of Health) was given the task of overseeing the program with almost zero guidance, funding or regulation. It has been a challenge for the agency to create and maintain so far. I believe it will continue to be an issue in the future."

"Patients who will flood the pharmacy looking for recreational marijuana."

"Pharmacy left out."

"Since I am in the hospital setting, we have concerns on patients' use while in our facility. We are currently working on policies to address this. We have to figure out how to secure the patient's medical marijuana while also documenting use while in the facility." 
Houston wrote that the responses reflect "concern from these healthcare professionals about knowledge, safety and drug interactions."
Mississippi's law does not ask for their input.


Story by Jay Wenger.
Faith Houston's thesis titled "Pharmacists' Perceptions and Knowledge of the Legalization of Medical Marijuana in Mississippi" provided much of the reporting for this story.