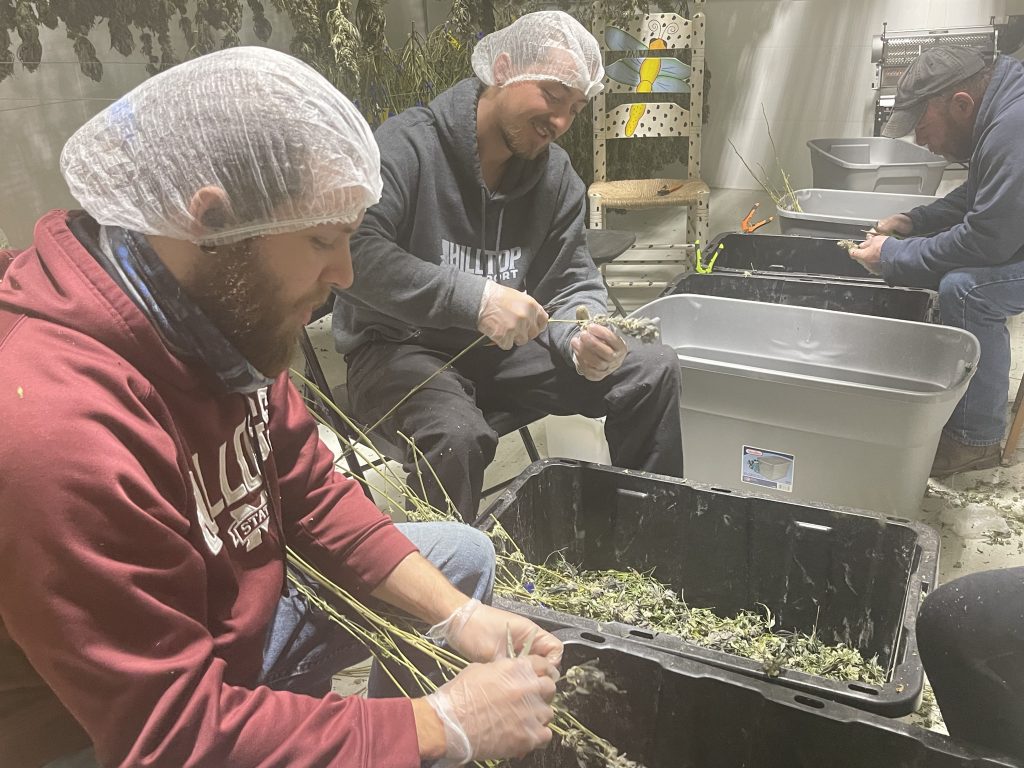 The root, both literally and metaphorically, of the medical cannabis program in Mississippi lies in the soil where marijuana plants are grown and harvested. These cultivation facilities are key to the success of the state's medical cannabis industry.
Of the 84 licensed cultivator facilities in Mississippi, one has a story different from most. Soon after Mississippi voters approved the ballot initiative legalizing medical marijuana, Williamson Family Farms in Water Valley stopped growing the cotton, soybeans, corn, and sweet potatoes they had harvested for more than four generations to begin producing medical cannabis.
The family owned and operated farm started an LLC on April 1, 2021, renaming itself New Altitude Farms. At the time they did not know it would take almost another year for legal battles to play out before medical cannabis was officially legalized in the state in February 2022. The Williamson's land has been the source of typical row crops for decades and has even grown its share of Christmas trees, too. Today, the farm operated by the Williamsons grows cannabis plants for Mississippi patients in what used to be a sweet potato storage shed.
Cory Williamson said his mom, Lorri, had the idea to change the farm's focus from cotton and beans to cannabis after seeing his grandfather battle cancer.
"My mother and her father were exceptionally tight," Cory Williamson, an attorney and the cultivation facility's compliance officer, said. "They had a really close relationship. Spoke every day. Saw each other most days. He passed away from lung cancer in 2007."
His grandfather was given morphine to ease his pain while battling cancer. According to the American Cancer Society, opioids like morphine are commonly used to help subdue cancer patients' pain. However, morphine also can cause a patient's breathing to slow and lead to severe nausea and vomiting, as well as increased tiredness. Williamson said his mom knew there had to be better treatments.
"Through all that time she researched and continued reading," Williamson said. "There's an awful lot of information out there that shows that in the very least (medical cannabis) helps with pain, nausea and a lot thing that accompany various sicknesses."
When Initiative 65, advocating for enactment of a medical cannabis program, was approved by Mississippi voters in 2020 and the legality of medical marijuana in Mississippi appeared imminent, Williamson said his mom saw an opportunity to help others.
"She was just like, 'Alright, we're doing it,'" Williamson said. "All of a sudden, we became a family medical marijuana farm."
Gov. Tate Reeves signed the Mississippi Medical Cannabis Act into law on Feb. 2, 2022.  It legalizes use of marijuana for a variety of medical conditions, including severe nausea and chonic pain.
The shift to growing medical cannabis has meant big changes for Williamson's dad, too. The state requires medical cannabis to be grown indoors in a secure facility. His father, who is now 70, has spent nearly every year of his life outside on the farm. Now, he works inside, managing a much different set of crops.
"It's such a completely different thing," Williamson said. "This is really science based and very meticulous, and everything is on such a micro scale compared to what he was doing."
To get started, the Williamsons needed a great deal of money.
"The input costs are tremendous on the cultivation," Williamson said. "The grow lights alone were $300,000."
New Altitude Farms is completely family-funded, meaning they took no money from investors to build their facility and purchase seeds to begin growing. In the process of outfitting the sweet potato shed, their first set of lights were lost in a storage facility fire, and that loss added to the already long list of the farm's expenses.
The Mississippi State Department of Health licenses cultivators and charges fees based on the size of the facility. The smallest might pay annual license fees of $2,000 and the largest could pay as much as $150,000.
The Williamsons obtained a license to grow in June 2022 and had seeds planted in the ground by early September. However, getting their products into dispensaries has proven to be difficult. Williamson said that the large, national companies operating growing facilities in Mississippi have a price advantage. Nevertheless, the Williamson farm's products are sold at Herbal Alchemy in Hernando and The Magg Dispensary in Columbus.
Though growing medical cannabis has required notable change at the farm, Williamson said one important things remains the same.
"They're still just family farmers in a small town like they've always been," Williamson said. "The same exact people just a new crop. They believe in it, and they believe it helps people and that's what they're doing."
Story by Loral Winn